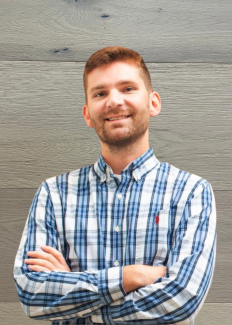 Jamie Alpaugh
Associate Financial Planner
Jamie is excited about being able to combine his methodical, problem-solving abilities with the people-loving part of his personality in his role as an Associate Planner at Brio. He can now focus the same skills and drive that have led him to pursue a masters in financial planning on helping clients execute plans that help them succeed.
Jamie is a veteran of the U.S. Navy, where he served six years and had the good fortune to be stationed first in Pearl Harbor and then Italy. While working on his undergraduate degree after the Navy, he trained workers at the brand new Minnesota Vikings stadium, where one of the perks was getting to see Metallica in concert, as well as all the Vikings' home games.
After graduation, Jamie held down jobs as a pension benefit analyst and an actuarial analyst, both at firms in Minnesota. This led him to two conclusions: 1) he wanted a career that was more customer-facing and 2) enough with the harsh winters. Luckily, the Bay Area and Brio are the beneficiaries.
Education & Accreditations
B.S, Economics, University of Minnesota Twin Cities
M.S., Financial Planning, Golden Gate University (graduating Dec 2020)
Passed the P, FM and IFM actuarial exams
Life Passions
Jamie developed a love of traveling when he was in the Navy and now has friends all over the world. He enjoys all kinds of sports, having played baseball in high school and golf while stationed in Hawaii. But his latest love is soccer, which will endear him even further to his international friends. When not out enjoying a game, Jamie can be found in a microbrewery playing board games with his buddies.