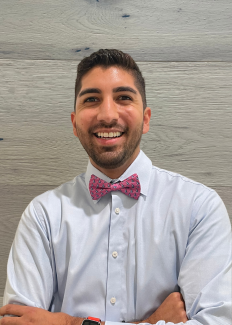 Angel Rodriguez
Client Service Specialist
As a self-described "people-person," Angel is perfect for his Brio position as a Client Services Specialist. This support ninja role entails anything needed to keep advisors on track and simplify the details of finance and planning for clients. Better yet, it enables Angel to focus on what he enjoys—connecting with people, listening to the real meaning behind their words, learning what they need, and figuring out how to support their hopes and dreams.
Before joining Brio, Angel worked with a commercial sales team in the fitness industry, where he handled the background details so sales pitches went smoothly. He also served as a general manager at a sandwich shop, which opened his eyes to all the human resources responsibilities employers have. His job as a dance studio teacher and choreographer showed him how to develop a safe and nurturing environment that promoted growth and development.
Education
B.A, Double Major Psychology and Dance, University of California Davis, Davis, CA
Life Passions
Dance is Angel's great love and if you're nearby when he's in a dancing mood, chances are, he'll pull you into the fun and movement. Though no longer dancing professionally, Angel still enjoys being part of the cast for the annual Nutcracker and Spring/Summer shows as a guest artist with various Bay Area dance companies.
He also loves spending time diving into fiction books, especially if the plot involves adventure or magic. Perhaps these stories inspired the Facebook videos Angel and his partner Michael made during the pandemic to amuse their friends and escape—at least virtually—to the beach, gym and other places they missed.