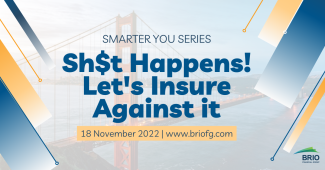 Smarter You Series - Sh$t Happens! Let's Insure Against It
by Brandon Miller on Nov 21, 2022
Preparing for the unexpected is what we do best so we made the perfect survival guide of what to do before the proverbial poop emoji hits the fan. Smarter You – Sh$t Happens! Let's Insure Against It! which took place on November 18th. We got to discuss how we can best brace ourselves for unexpected life events such as a car accident, losing your job, or even when a loved one falls sick.
Our associate financial planner, Jamie Alpaugh spoke about how to protect you and your family against these undesirable situations. Brandon Miller also joined to chime in with his guidance and recommendations.
If you have any questions, please feel free to reach out at info@briofg.com. By all means share this with anyone you know that could benefit from learning on how to safely give themselves a financial buffer when things go sideways.
While insurance may not be the most exciting topic, it is necessary, and often overlooked. And hey we're Brio - so you know we made it fun. 
Stay well,
The Brio Team