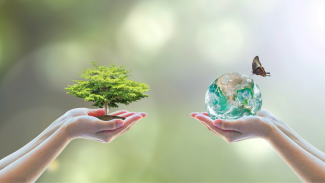 Investing for Impact
by Brandon Miller on Feb 26, 2020
SRI (Socially Responsible Investing), Impact Investing, and ESG (Environmental, Social, and Governance) Investing belong to a growing category of investment choices that use traditional investing practices to responsibly impact society.
In the past, these investment strategies were viewed as too restrictive for most investors. But over time, improved evaluative data and competitive returns have pushed these strategies into the mainstream. Even though SRI, ESG investing, and impact investing share many similarities, they differ in some fundamental ways. Read on to learn more.1
ESG Investing assesses how specific criteria of an investment, such as its environmental, social, and governance practices, may impact its performance. These factors are used in an evaluative capacity. In the United States alone, there are more than 350 ESG mutual funds and ETFs available.2,3,4
SRI (Socially Responsible Investing) uses criteria from ESG investing to actively eliminate or select investments according to ethical guidelines. SRI investors may use ESG factors to apply negative or positive screens when choosing how to build their portfolio. For example, an investor may wish to allocate a portion of their portfolio to companies that contribute to charitable causes. In the U.S., more than 12 trillion dollars are currently invested according to SRI strategies.4,5
Impact Investing or thematic investing differs from the two above. The main goal of impact investing is to secure a positive outcome regardless of profit. For example, an impact investor may use ESG criteria to find and invest in a company dedicated to the development of a cure for cancer despite whether success is guaranteed.6
The biggest take away? There have never been more choices for keeping your investments aligned with your personal beliefs. But no matter how you decide to structure your investments, don't forget it's always a smart move to speak with your financial professional before making a major change. 
  
This material was prepared by MarketingPro, Inc., and does not necessarily represent the views of the presenting party, nor their affiliates. This information has been derived from sources believed to be accurate. Please note - investing involves risk, and past performance is no guarantee of future results. The publisher is not engaged in rendering legal, accounting or other professional services. If assistance is needed, the reader is advised to engage the services of a competent professional. This information should not be construed as investment, tax or legal advice and may not be relied on for the purpose of avoiding any Federal tax penalty. This is neither a solicitation nor recommendation to purchase or sell any investment or insurance product or service, and should not be relied upon as such. All indices are unmanaged and are not illustrative of any particular investment.
The opinions expressed in this article are for general informational purposes only and are not intended to provide specific advice or recommendations for any individual or on any specific security. It is only intended to provide education about the financial industry. To determine which investments may be appropriate for you, consult your financial advisor prior to investing. Any past performance discussed during this program is no guarantee of future results. Any indices referenced for comparison are unmanaged and cannot be invested into directly. As always please remember investing involves risk and possible loss of principal capital; please seek advice from a licensed professional.
Brio Financial Group is a registered investment adviser. Advisory services are only offered to clients or prospective clients where Brio Financial Group and its representatives are properly licensed or exempt from licensure. No advice may be rendered by Brio Financial Group unless a client service agreement is in place.
Citations:
1 - https://investor.vanguard.com/investing/esg/ [01/01/2020]
2 - Investing in mutual funds is subject to risk and potential loss of principal. There is no assurance or certainty that any investment or strategy will be successful in meeting its objectives. Investors should consider the investment objectives, risks, charges, and expenses of the fund carefully before investing. The prospectus contains this and other information about the funds. Contact the fund company directly or your financial professional to obtain a prospectus, which should be read carefully before investing or sending money.
3 - Exchange Traded Funds (ETFs) are subject to market and the risks of their underlying securities. Some ETFs may involve international risks, which include differences in financial reporting standards, currency exchange rates, political risk unique to a specific country, foreign taxes and regulations, and the potential for illiquid markets. These factors may result in greater share price volatility. ETFs that focus on a small universe of securities may be subject to more market volatility as well as the specific risks that accompany the sector, region or group. An ETFs trading price may be at a premium or discount to the net asset value of the underlying securities.
4 - https://www.morningstar.com/content/dam/marketing/shared/pdfs/sustainability/Sustainable_Funds_Landscape_2018.pdf?cid=EMQ_ [02/04/2019]
5 - Asset allocation is an approach to help manage investment risk. Asset allocation does not guarantee against investment loss.
6 - https://www.ussif.org/sribasics [08/02/2019]