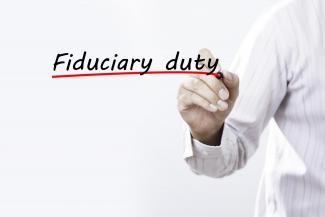 The Fiduciary Standard
by Brandon Miller on Dec 1, 2017
This year, there has been a lot of talk about the Department of Labor (DOL) Fiduciary Rule which was to be initially implemented by the start of 2018, but has been delayed until July 2019. Under this new rule, financial professionals who consult retirement savers will be held to a fiduciary standard of care. In other words, they will have an ethical and legal obligation to always act in a client's best interest.1,2
Many financial professionals already abide by a fiduciary standard. If the new fiduciary rule is implemented, even more will. In fact, the fiduciary standard may soon become the "new normal" within the financial services industry.
Historically, investment professionals working with Broker Dealers have been asked to uphold a suitability standard when making recommendations to their clients. Under the suitability standard, financial products are recommended considering a client's age, income, net worth, and savings goals. Many in the brokerage industry believe this standard works well.2
The Department of Labor disagrees. In its view, the suitability standard leaves an open door for conflicts of interest to affect client-advisor relationships. In theory, many investments or products could be found suitable for an investor, and the one most recommended could be the one that results in the largest commission for the financial professional offering the advice.2,3
So, which financial services professionals uphold a fiduciary standard and emphasize fee-based or fee-only planning?
Registered Investment Advisers (RIAs) work by a fiduciary standard. They are regulated by the Securities and Exchange Commission and/or state securities authorities, and they charge their clients fees for many or all of the services they provide.3
CERTIFIED FINANCIAL PLANNER™ practitioners also uphold a fiduciary standard. These individuals abide by the code of ethics and rules of conduct articulated by the CERTIFIED FINANCIAL PLANNER™ Board of Standards in Washington, D.C. They are directed to provide their financial planning services as fiduciaries.4
Sometimes, the decades-old compensation structure of the financial services industry can impact even those financial professionals serving as fiduciaries. For example, a CFP® practitioner may sell financial products that provide commissions.5
In short, the financial services industry is not perfect. If the new rule demanding a fiduciary standard from professionals advising retirement accountholders is implemented, some of its imperfections could soon be remedied.
Brandon Miller, CFP® is a financial consultant at Brio Financial Group in San Francisco, specializing in helping LGBT individuals and families plan and achieve their financial goals.
 
Brio Consultants, LLC dba Brio Financial Group is a Registered Investment Adviser. This is solely for informational purposes. Advisory services are only offered to clients or prospective clients where Brio Financial Group and its representatives are properly licensed or exempt from licensure. Past performance is no guarantee of future returns. Investing involves risk and possible loss of principal capital. No advice may be rendered by Brio Financial Group unless a client service agreement is in place.
Citations:
1 - kiplinger.com/article/retirement/T023-C032-S014-fiduciary-rule-in-limbo-but-investors-are-still-wi.html [3/20/17]
2 - cbsnews.com/news/merrill-lynchs-landmark-move-to-end-broker-commissions/ [10/17/16]
3 - investopedia.com/terms/r/ria.asp [3/20/17]
4 - cfp.net/about-cfp-board/ethics-enforcement [3/20/17]
5 - nerdwallet.com/blog/investing/searching-for-financial-advisors-online-what-you-should-know/ [3/1/16]