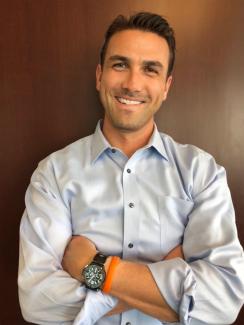 Daniel Platt helps clients organize and streamline their financial lives, so they can focus on enjoying life. In each relationship, he takes the time to truly understand his clients' current financial picture and long-term objectives. Daniel helps clients define exactly what their money means to them — and what they hope it will accomplish for them. Using detailed analysis, he helps clients develop effective financial habits and make sound choices for their future.
Before joining the Brio team, Daniel served as an energy trader for PG&E. Intellectual curiosity and a passion for financial planning remain at the core of Daniel's work, as he strives to develop unique and fresh approaches to his clients' needs. He combines this cerebral drive with true caring to build relationships that make the most of clients' opportunities while providing the attention they deserve. For Daniel, serving as a financial advisor is an honor, and he feels lucky to do what he does every day.
Education & Accreditations
University of San Francisco - Master of Science, Finance
University of Oregon - Bachelor of Science, Finance and Economics
Chartered Financial Analyst designation (CFA®)
CERTIFIED FINANCIAL PLANNER™ practitioner
Industry Focus
Wealth Preservation Strategies
Retirement Plan Distribution and Strategies
Charitable Giving
Executive Compensation and Benefit Strategies
Estate Planning Strategies
Stock Options and Concentrated Stock Positions
Social Responsible Investing
Community Involvement
The TP Forever foundation was established in 2012 to preserve the memory and spirit of Daniel's younger brother, Anthony Michael Platt (Tony Platt). Today, this foundation ensures that Tony continues to touch lives by providing scholarships to Oregon State University engineering students or the Humane Society. TP FOREVER!
In addition, Daniel has gladly volunteered his time and donated to the following organizations:
Life Passions
For Danny, family is everything. As one of seven kids and with an ever-expanding extended family, there is always a get-together in the works somewhere! You'll often find Danny visiting Portland to see his relatives and friends or flying out to spend time with his new Spanish family on his wife's side. Outside of his travels, he relishes exploring all that San Francisco has to offer. And whenever he has a moment free, Danny spends time on his efforts to learn the Spanish language.